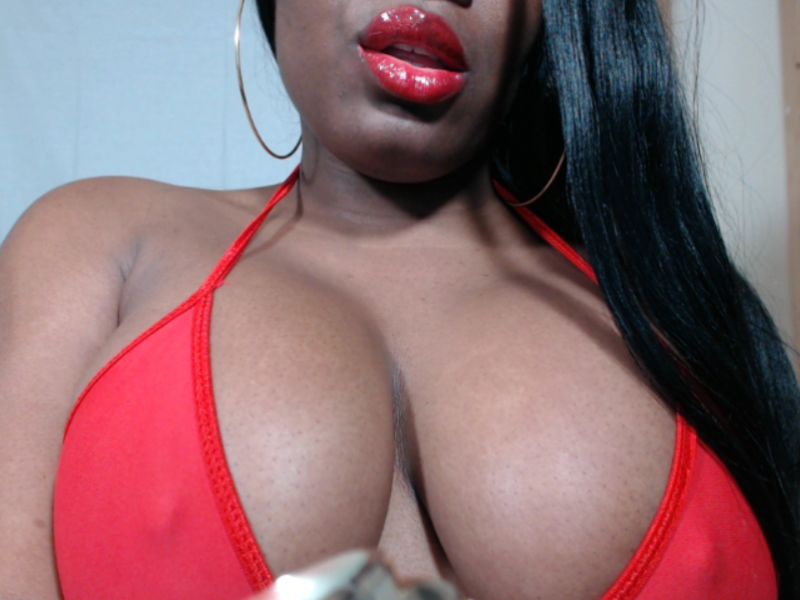 Stop whatever you are doing and listen to this girl! She is sure to make you cum just by talking to you dirty! EbonyBikiniBabe is a British ebony babe with that accent that makes the blood rush down to your cock or the juices to flow in your cunt. The bisexual lady is the master of jerk off encouragement and she has the athletic body with a nice dark hair and gray eyes.As she is 27 years old, be sure that EbonyBikiniBabe's cam room can satisfy you, because she has enough experience to know what you want and she is young and firm with an athletic build so your cock will be thankful to you for joining her cam room. She is a black dominant lady, so be sure to obey if she wants something.
"I strive to provide an excellent service. It is my policy NOT to accept future shows from guys that leave potentially damaging comments or vote below 5 stars. Please note my shows are 4 MINUTES MINIMUM."
If her sexy cockney accent doesn't get your cock then I'm pretty sure the sight of her delicious pink beaver ought too! I watched her flick her rock hard clit and I could see the way it made her shiver. Her pussy was so sensitive. The cream literally ran from her pussy in to her asshole. Fucking Stunning! If you want to get busy with this busty Ebony Queen from London, England then please join CamBeaver. You can register on our site for free or simply login and start watching live sex shows.
EbonyBikiniBabe loves showing her sexy feet and if you want you to lick them, then go down and lick those sexy feet and be sure to hold your cock because it will probably explode while she is making you do things with that British accent of hers. If that is not for you, then she has a special treat – her tight asshole that is there to be penetrated.
"Wanna know what turns me on? Talking dirty with my sexy BRITISH ACCENT. Twerking, JOI, CEI, SPH, strip tease, blowjobs, roleplay, Cam to Cam, Ass Worship"
Check out her photos and be sure to see her ratings, because she is something. A jerk off encouragement specialist that is ready to make you shoot cum in no time. Worshipping her great ass is a must and she will tell you that but be sure to know that her shows are 4 minutes minimum, but you can cum at least two times, trust us, that is the thing with EbonyBikiniBabe, so, why are you still here??? You can register on our site for free or simply login and watch her live cum show.